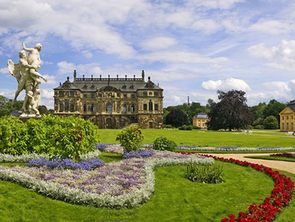 With its 147 hectares, the Grand Garden is an impressive example of Baroque and English landscaping. It counts among Europe's most impressive gardens. The so-called »green heart of Dresden« with its diverse flora and fauna is a popular place for recreation and a destination for a day out still in our day.
Welcome to the Grand Garden of Dresden and the Dresden Park Railway
Covering 147 hectares, the Grand Garden in Dresden ranks among Europe's most important garden estates today. And with its great diversity in plant species and with its Park Railway, it is a popular recreational resort for Dresdeners and Dresden visitors alike.
Contact
The Grand Garden of Dresden and the Dresden Park Railway
Jana Kursave
Phone +49 351 4456-720
Kavaliershaus C, Hauptallee 10 | 01219 Dresden
Property of State Palaces, Castles and Gardens of Saxony, non profit
+49 (0) 351 4456-600
grosser.garten@schloesserland-sachsen.de
Everything Around The Dresden Grand Garden and The Dresden Park Railway