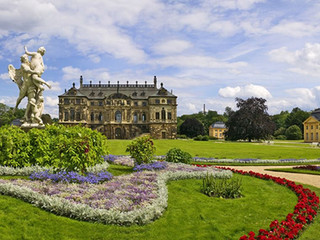 Covering 147 hectares, the Grand Garden is one of Europe's most important garden estates. Today, the impressive testimonial to Baroque and English landscape design with its diversity in flora and fauna is a popular recreational resort at the heart of Dresden.
Contact
The Grand Garden of Dresden and the Dresden Park Railway
Kavaliershaus C, Hauptallee 10 | 01219 Dresden
Property of State Palaces, Castles and Gardens of Saxony, non profit
Opening hours

Monday:

Closed

Tuesday:

Closed

Wednesday:

Closed

Thursday:

Closed

Friday:

Closed

Saturday:

Closed

Sunday:

Closed
Reduced admission for refugees
For a moment of peace and distraction, refugees receive reduced admission to Saxony's most beautiful castles, palaces and parks.
Benefits with the schloesserlandCARD
Arrival & map
Arrival information:
By car
via A4/17, all exits to Dresden city center (Dresden Zentrum)
follow the signposts to Dresden Zoo or the »Transparent Factory« (Glaeserne Manufaktur)
parking facilities along the surrounding roads or at outdoor swimming pool »Georg-Arnhold-Bad«
no cars allowed in the Grand Garden of Dresden
By rail
take tram line 9,10 or 11 from Dresden Main Station
By bus and tram
tram lines 1, 2, 4, 9, 10, 11, 12, 13
bus lines 61, 63, 75, 85
stops Strassburger Platz, Comeniusplatz, Grosser Garten (Hygienemuseum), Lennéplatz, Querallee, Tiergartenstrasse
interactive and multimodal planning of your trip at Greenmobility