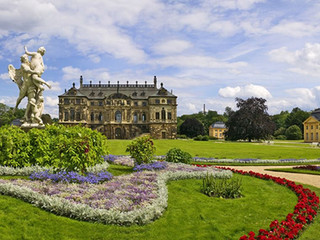 Covering 147 hectares, the Grand Garden is one of Europe's most important garden estates. Today, the impressive testimonial to Baroque and English landscape design with its diversity in flora and fauna is a popular recreational resort at the heart of Dresden.
Contact
The Grand Garden of Dresden and the Dresden Park Railway
Kavaliershaus C, Hauptallee 10 | 01219 Dresden
Property of State Palaces, Castles and Gardens of Saxony, non profit
Opening hours

Monday:

12:00 am - 12:00 am

Tuesday:

12:00 am - 12:00 am

Wednesday:

12:00 am - 12:00 am

Thursday:

12:00 am - 12:00 am

Friday:

12:00 am - 12:00 am

Saturday:

12:00 am - 12:00 am

Sunday:

12:00 am - 12:00 am
Information:
Park: open all year
Palace: visits possible only on advance registration or as part of special events
Admission prices
Full rate :

0,00 EUR
Information:
Park: free admission
Opening hours

Monday:

Closed

Tuesday:

Closed

Wednesday:

10:30 am - 05:00 pm

Thursday:

10:30 am - 05:00 pm

Friday:

10:30 am - 05:00 pm

Saturday:

10:30 am - 05:00 pm

Sunday:

10:30 am - 05:00 pm
Admission prices
Information:
Seniorentag ist jeden Donnerstag in der Saison: ermäßigter Fahrpreis (ab 65 Jahren)

Hunde: 1,00€

Kinderwagen (nur im Lastenabteil und nur max. 5 Stationen): 1,00€

Parkeisenbahncard (25,00€/ Jahr): 50% Nachlass beim Fahrkartenkauf I 1 Kind (2-15 Jahre) erhält in Begleitung des Karteninhabers freie Fahrt

Kulturpass Elbe/ Labe, Märklin-, LGB und Trix-Card: 10% Nachlass

Ferienpass Dresden während der sächsischen Sommerferien: 30% Nachlass
Please note:
On Saturday, August 14, the incidence of 10 was exceeded for the fifth consecutive day. According to the current Corona Protection Ordinance, the following regulations will thus apply as of Monday, August 16, 2021:
Keep a distance of at least 5 feet from people who are not part of your household and avoid forming groups.
Wearing a medical mouth & nose covering (FFP2 without breathing valve or so-called surgical masks) in the queue, in the station area and during the journey is a prerequisite for your visit. Everyday masks, plastic visors or similar are not permitted.
In addition, we ask you to fill out the contact tracking form digitally or analogously in our entrance area. You can download the form here.
Unfortunately, getting on and off at the train stations Karcherallee and Palaisteich is not yet possible
Benefits with the schloesserlandCARD
Arrival & map
Arrival information:
By car
via A4/17, all exits to Dresden city center (Dresden Zentrum)
follow the signposts to Dresden Zoo or the »Transparent Factory« (Glaeserne Manufaktur)
parking facilities along the surrounding roads or at outdoor swimming pool »Georg-Arnhold-Bad«
no cars allowed in the Grand Garden of Dresden
By rail
take tram line 9,10 or 11 from Dresden Main Station
By bus and tram
tram lines 1, 2, 4, 9, 10, 11, 12, 13
bus lines 61, 63, 75, 85
stops Strassburger Platz, Comeniusplatz, Grosser Garten (Hygienemuseum), Lennéplatz, Querallee, Tiergartenstrasse
interactive and multimodal planning of your trip at Greenmobility