Notre-Dame de Paris – A Cathedral on World Tour
The dramatic fire at the Notre-Dame cathedral shocked the international community in 2019. The entire world seemed to hold its breath as the famed cathedral stood in flames for seven hours. That very scene marks the start of the interactive exhibition titled »Notre-Dame de Paris – A Cathedral on World Tour«. Explore the exhibition, which encompasses approximately 850 square meters, for a whole new look at Notre-Dame today, from the plans used to build the cathedral through to the current reconstruction efforts. Immerse yourself in the world-famous cathedral's 850-year history through augmented reality, impressive models, and projections. The interactive »HistoPad« tablet guide lets you admire Notre-Dame inside and out. Discover spectacular 360° views and 3D reconstructions and watch as restorers go about their important work. Journey through space and time, experiencing Notre-Dame as it was before the fire and as it is today.
An impressive backdrop for a breathtaking experience: the Grand Garden Palace
The heart of Dresden is home to an early Baroque architectural masterpiece, the Grand Garden Palace. These days, the palace is used as a venue for celebrations and exhibitions, with the upper floor deliberately left in its postwar state. It is the perfect setting for a unique exhibition. After visiting »Notre-Dame de Paris – A Cathedral on World Tour« the Grand Garden of Dresden itself is yours to explore on foot. Take in the idyllic groves of trees, themed gardens, and romantic winding paths. Hop aboard the Dresden Park Railway to tour the entire grounds or stop at one of the restaurants and cafés dotted around the garden as a pleasant way to finish the day.
12 cities, 4 continents, already a smash hit: the world tour
»Notre-Dame de Paris – A Cathedral on World Tour« was developed as a way to allow people to continue to visit Notre-Dame while restorations are under way. Over 150,000 guests attended the exhibition when it opened at the French pavilion of the Dubai World Expo. Now, after stops in Paris and Washington, D.C., »Notre-Dame de Paris – A Cathedral on World Tour« is coming to Germany for the first time. It will be on view at the Grand Garden Palace in Dresden from August 6, 2022, until January 8, 2023.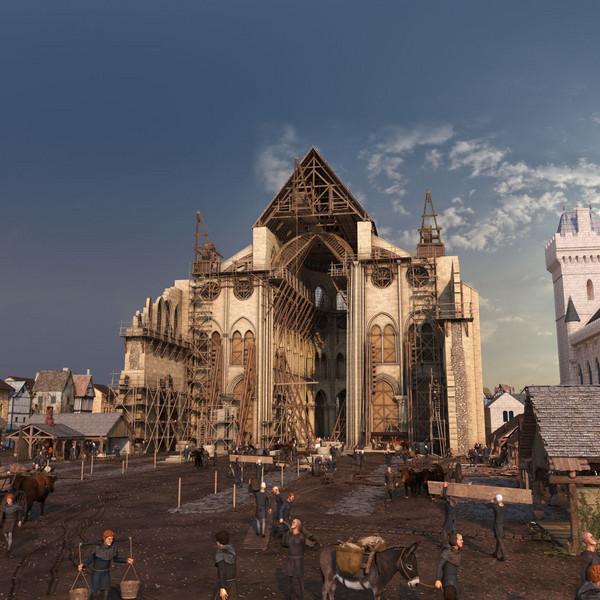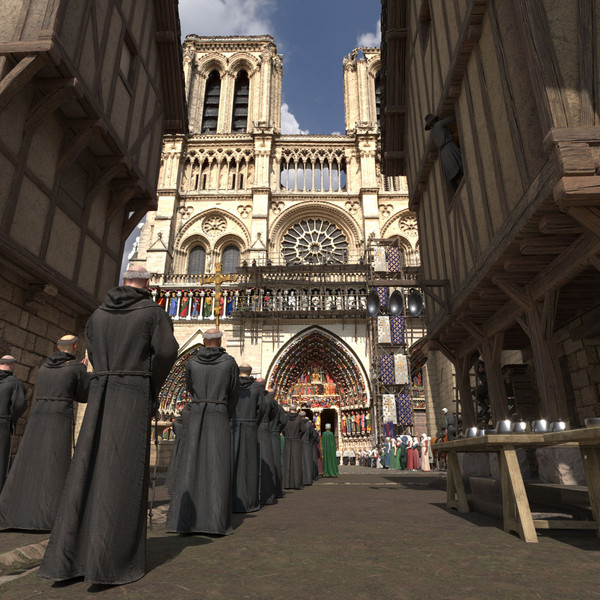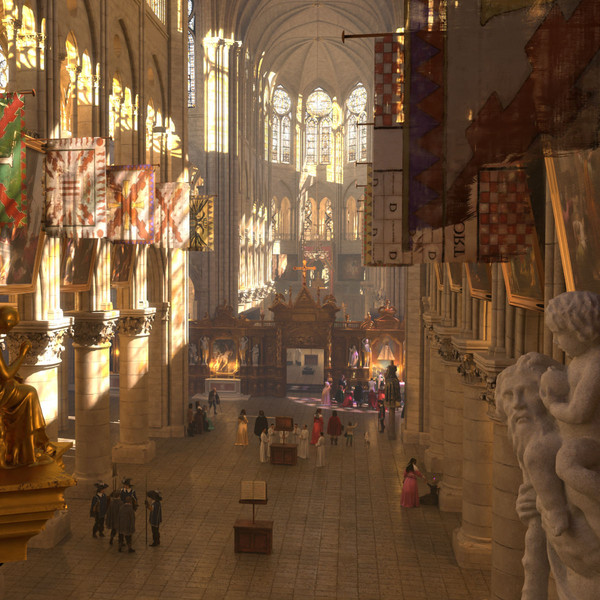 Visitor information
Opening hours
Monday to Sunday 10:00 - 18:00
last admission 16:30
Closing days 2022:
December 24 - 25, 2022
December 31, 2022
Special opening hours:
01/01/2023 we will open from 12:00 - 18:00. Last admission 16:30.
Admission prices
Book online and save money!
Get your online ticket and enjoy Zwinger Xperience without long queuing! Tickets can also be purchased at the box office on site, subject to availability.
Plane bitte ca. 90 Minuten für den Rundgang ein.
The Histopad is available in 13 Languages: English, French, German, Czech, Polish, Russian, Italian, Spanish, Portuguese, Arabic, Chinese, Japanese, Korean.
| | | | | |
| --- | --- | --- | --- | --- |
| Prices | Online MO - FR | Online SA, SU, Holidays | Box office MO - FR | Box office SA, SU, Holidays |
| Full rate | € 10,00 | € 15,00 | € 12,00 | € 17,00 |
| Reduced rate | € 8,00 | € 12,00 | € 10,00 | € 14,00 |
| Children aged 6-16 | € 3,00 | € 5,00 | € 5,00 | € 7,00 |
Free admission for:
Children up to 5 years of age, birthday children, accompanying persons of severely disabled persons with the mark "B" in their severely disabled pass, journalists, tour guides and bus drivers with tour groups, for school classes one accompanying person per 10 pupils
Reduced price for:
Holders of the schloesserlandCARD, schoolchildren aged 17 and over (special price of € 3.00 in classes), trainees, students, persons doing voluntary service/ FSJ/ FÖJ/ voluntary military service, severely disabled persons (for persons accompanying severely disabled persons, see "Free admission"), recipients of unemployment benefit, social welfare or benefits under the Asylum Seekers' Benefits Act, refugees with a residence permit or tolerated status, holders of a social passport, members of the Federal Association of German Tour Guides e. V. and the Association of German Art Historians, holders of the Saxon Volunteer Card (in each case with valid proof).
Directions
Address
Palais Großer Garten
Hauptallee 8
01219 Dresden
Entrance
To get to the "Notre-Dame de Paris" exhibition in the Palais, please use the outside stairs on the pond side. The exhibition is located on the upper floor of the Palais in the Great Garden. Visitors in wheelchairs or with mobility impairments, please use the barrier-free access on the Jewel Meadow side of the Palais.
Getting there by public transport
Streetcar lines 1, 2, 4, 9, 10, 11, 12, 13
Bus lines 61, 63, 75, 85
Stops around the Great Garden (depending on the line): Straßburger Platz, Comeniusplatz, Georg-Arnhold-Bad, Lennéplatz, Querallee, Tiergartenstraße
At http://www.dvb.de you can plan your journey by bus and train individually and get current information about possible construction measures and detours.
Arrival by car & parking
All freeway exits in the direction of Dresden city center
Follow the signs to "Zoo" or "Gläserne Manufaktur
Parking is only possible in the public parking lots on the surrounding streets or at the Georg-Arnhold-Bad.
Accessibility
Also suitable for people with reduced mobility and visual or hearing impairment. For people with reduced mobility there is access via the elevator.
Groups
Group registration
A registration of the group is required due to capacity reasons. Groups of less than 11 people are requested to book their tickets directly via our online store.
For groups of 11 or more, we will make a reservation for you (subject to available ticket contingents). Please contact us at least 7 days before your visit by e-mail grosser.garten@schloesserland-sachsen.de.
We need your complete address data, the indication of your desired date incl. desired time slot as well as the indication to which price category (full payer, reduced or free admission) the group participants are assigned.
Please pay the total amount for the tickets for the group on the day of booking at our box office (cash, EC card or credit card).
Are there guided tours for groups?
We do not offer guided tours, as all visitors are individually guided through the experiential tour using our Histopad.
Are there any group discounts?
We do not offer a group discount.
Contact
Feel free to get in touch
Service hours
Monday to Friday 10:00 - 14:00 Uhr
Telephone: +49 (0) 351-438370357
E-mail: grosser.garten@schloesserland-sachsen.de
We will get in touch with you as soon as possible.
Protective measures against the Corona virus
We have provided contactless disinfectant dispensers for your use in the entrance area, sanitary area and exit area.
We disinfect handrails, door handles and other frequently touched surfaces several times a day.
Our Histopads are cleaned for you after each use. Please do not disinfect the Histopad yourself, as contact with the wrong cleaning product can harm our equipment.
FAQ
How does the HistoPad work?
Scan the time portals in the historic castle halls.
The HistoPad will detect where you are and take you on a journey through time.
Move freely through the rooms and watch the castle's history come to life through augmented reality.
The 3D reconstructions and models will teach you more about the 850-year history of Notre-Dame de Paris Cathedral
Where can you buy vouchers?
You can buy Schloesserland vouchers (you determine the value) from the ticket offices at the Palais Großer Garten. Vouchers can be redeemed at all participating establishments of State Palaces, Castles and Gardens of Saxony, non-profit. Vouchers with a value of 25€ | 50€ | 75€ | 100€ are also available in our online store. These will be sent by email and can be printed at home. Please note that the vouchers are not redeemable in our webshop.
Are there checkrooms or lockers available on site?
Please note that there are no checkrooms, lockers or similar facilities available on site for the temporary storage of your personal belongings.
Are dogs allowed in the exhibition?
Unfortunately, dogs are not allowed in our exhibition rooms.