Nature and Art Harmoniously Accomplished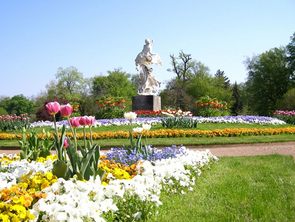 Allow to be enchanted by the impressive lines of sight in the Grand Garden when you enter the main avenues of »Hauptallee« or »Querallee«. There are 20 smaller entrances that allow you to enter the park.
See for more information on the map.
In order to preserve the Grand Garden and its Baroque splendor, we would like you to observe the Visitor Regulations.
Map with legend (PDF; 412 KB)
Sights and destinations (PDF; 740 KB)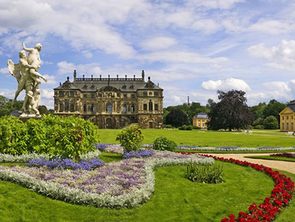 The central place of the Garden is the Palace in early Baroque style, which is framed by the Palace Pond and the ornamental Schmuckplatz square. Elaborate carpet and parterre flowerbeds, the conifer, shrub and dahlia gardens line the square. Apart from the lavish plant arrangements, 22 of what used to be 150 sculptures and decorative vases adorn the Garden.
An Oasis in the Middle of the City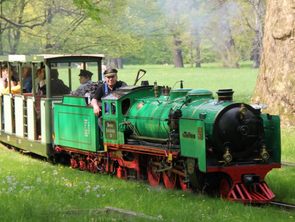 Not only the Park Railway, but also the traditional cafés, leisure facilities and the concerts performed at the Palace and on open-air stages make the Grand Garden an oasis of nature and culture at the heart of the city and, thus, unique in Dresden. You can find tips for events and outings on our website or on our flyer.
Here you can find a chronicle of the history of the Grand Garden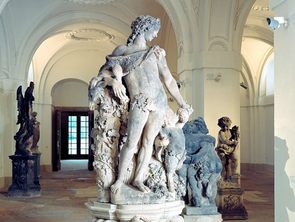 After it had suffered almost complete destruction in WW II, the Grand Garden Palace has been restored to old splendor again. From the outside, Saxony's oldest Baroque building is decorated by innumerable reliefs and sculptures; Baroque sculptures are displayed on the inside in their original. Concerts and theater plays are performed on the upper floor, which has intentionally been left to show the marks of destruction.
A Palace in Old Splendor
Contact
The Grand Garden of Dresden and the Dresden Park Railway
Jana Kursave
Phone +49 351 4456-720
Kavaliershaus C, Hauptallee 10 | 01219 Dresden
Property of State Palaces, Castles and Gardens of Saxony, non profit
+49 (0) 351 4456-600
grosser.garten@schloesserland-sachsen.de
Ticket rates
Full rate 6,00 EUR
Reduced rate 3,00 EUR
Round trip (without getting off and in again)
Full rate: EUR 6.00
Reduced rate*: EUR 3.00
2 adults and up to 4 children*: EUR 15.00
1 adult and up to 2 children**: EUR 9.00

Group rate (15 people and more): EUR 5.00 per person

Group rate for pupils (10 pupils and more): EUR 2.00 per person
Tickets per station
Full rate: EUR 1.00
Reduced rate: EUR 0.50
Our tipp: On Thursdays, there is senior citizens' days. Senior citizens aged 65 and above pay reduced rates only.
Subject to modifications.