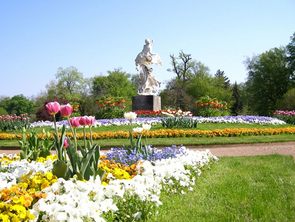 You will have the best view along the impressive lines of sight in the Grand Garden if you enter the Garden via its avenues »Hauptallee« or »Querallee«. Another 20 smaller entrances are distributed round about the Grand Garden and will lead you directly to the various park areas.
Sights and destinations (PDF; 740 KB)
Contact
The Grand Garden of Dresden and the Dresden Park Railway
Jana Kursave
Phone +49 351 4456-720
Kavaliershaus C, Hauptallee 10 | 01219 Dresden
Property of State Palaces, Castles and Gardens of Saxony, non profit
+49 (0) 351 4456-600
grosser.garten@schloesserland-sachsen.de
Ticket rates
Full rate 6,00 EUR
Reduced rate 3,00 EUR
Round trip (without getting off and in again)
Full rate: EUR 6.00
Reduced rate*: EUR 3.00
2 adults and up to 4 children*: EUR 15.00
1 adult and up to 2 children**: EUR 9.00

Group rate (15 people and more): EUR 5.00 per person

Group rate for pupils (10 pupils and more): EUR 2.00 per person
Tickets per station
Full rate: EUR 1.00
Reduced rate: EUR 0.50
Our tipp: On Thursdays, there is senior citizens' days. Senior citizens aged 65 and above pay reduced rates only.
Subject to modifications.